Covenant Eyes Accountability Software
This is my (Scott's) Covenant Eyes story... I had just received a CD in the mail (2001) from Compuserve with a free ISP offer. Plopped the disk into the tray in anticipation of my first experience with the Wild Wild Web.
After running the install the opening welcome screen baits me... up pops Bay Watch babe Pamela Anderson with a free screen saver offer. Knowing better I took the bait... this began a two week plunge into the bottomless pit of Internet porn. The hook had set.
The combo of surfing the new universe of the world wide web and pornography sites was like an intoxicating cocktail drug!
It was the crack cocaine of the sexual high. I was stuck in this sticky web and couldn't get out.
Finally the opportunity came as I confessed to my wife the dark world I was visiting.
As I began to seek the help I needed to deal with the issues of my heart (you can't break free alone) we recognized the need for accountability. My wife saw this instantly. It took me a while to understand how important it was for her and even longer to understand how important it was for me.
Loose the Noose
That's when I found
Covenant Eyes
... a software subscription that would track my internet use and offer filtering software to block out offensive sites.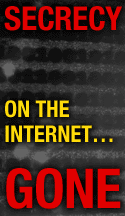 Not only does it keep logs of every web site visited, but it sends an easy to read report to my accountability partner.
So while God was dealing with my heart, I was dealing with my hard drive. The noose around my neck was loosening.
There is no way around the software. If it's not tracking I cannot get online unless I request a password to disable it... which sets of the alarm so to speak.
The drawbacks are minimal. About the only negative is starting up my computer. It takes a wee bit longer as Covenant Eyes loads. Once up it runs silently in the background. No hassles... works on PC's and Mac's.
An added benefit is that it protects me from any false acusations about my Internet conduct. SInce all my Internet use is tracked, there is no need for me to worry about being falsly accused of using the church computer to look at porn. Other users can be monitored as well.
Freedom or Slavery
Some Christians think using filtering software is turning back to enslavement of the law... like trying to control our flesh without dealing with the heart. They look at software like this as a band aid, not a solution.

I couldn't disagree more. We are to put off the old man and put on Christ. This is a call to action! We are in the battle for our freedom in Christ. Our enemy is bent on keeping us bound in sexual addiction. We must be proactive!

Job said this... "I have made a covenant with my eyes not to look with lust upon a young woman." Job 31:1 Whatever it takes to follow suit is a good thing.




Today I walk in sexual purity and freedom... not perfection... but pressing toward the goal. Christian Business Opportunities is proud to promote this company's great software.

My teenage boys got hooked up as soon as they got their graduation presents... Apple G4 laptops. They realize the benefits of protecting themselves with armor created for today's battle.

If you want to live a life that honors God in today's culture Covenant Eyes is a great weapon to wage war with.